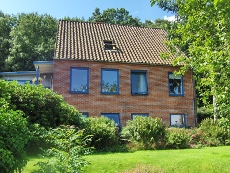 Cosy bed and breakfast at Vejle Fjord in Denmark. Stay in the inspiring home of artist Pia Hede. Stay in the middle of Jutland - central to exciting excursions around in the country. Idyllic spot near the woods and beach and only 1 ½ km from Vejle city. Free wireless Internet throughout the house when you carry your own laptop. I speak English, German, French and a little Spanish and Swedish. Casa Mundo is a bed and breakfast with a fantastic panoramic view of Vejle Fjord. The view can be enjoyed from 4 of a total of 6 bedrooms and from the place of the small artist cafe. Here is a personal atmosphere with room to improvise. Here are a total of 16 beds placed over 3 floors.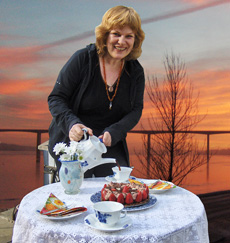 There is a bathroom on all three floors. There is access to the kitchen. And at the top is an apartment with own kitchen and bath. I have run this bed and breakfast at the address in 20 years, and experienced many returning guests among the international visitors who enjoy the pleasant, relaxed and informal atmosphere. You are welcome to enjoy your dinner in the little cafe with Pias own art on the wall and the. Dinner can be ordered out - or be prepared jointly with the other guests. Your hostess is educated artist at The Kolding Design School. Everywhere in the house as well as in the city, you can see examples of her work. Mosaic, painting, collage...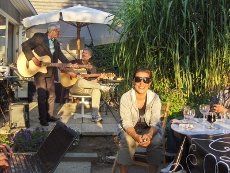 Activities:
Make a work of art together with Pia Hede.
Legoland
Lion Park 28 km,
Golf 4 km,
Casino Munkebjerg 4 km,
fishing 2 km, forests with historic watermill 0.5 km, shopping Vejle city (376 shops) 2 km,
69 km to Aarhus and The Old Town,
Jelling Viking museum + The Danish birth certificate:The Jelling stones, 20 km.
Fredericia Spa and tropical country + mini city 23 km.
Kolding, Botanical garden, Kolding Hus and Trapholt 29 km.
Distances by car: E 45 highway 5 min - 5 min Vejle - Fredericia 20 min - 25 min Kolding -
Legoland 25 min. –
Billund Airport 25 min. –
Århus 50 min. –
Hirtshals Færgen 2½ min